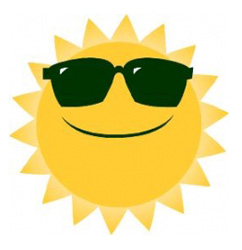 Well here we are after all the complaining and whining about the cold and the snow we are finally hitting the warmer weather.  As summer approaches so does the heat along with the brutal UV rays.  After the brutal winter the last thing that people are thinking about is the exposure to the sun and what it can do a workers skin and body.
Cancer prevention usually says that you should wear long sleeves, a hat, and be consistently applying sunscreen to exposed areas of skin, and to avoid the sun between 10 Am and 2 PM.  Let's face it most of this is not going to happen.  Landscapers, construction workers, and other working outdoors are usually removing layers and shirts, ditching hot hats, and probably not applying sunscreen.  The last thing they are not doing is avoiding work between 10 AM – 2 PM.
When it comes to workers compensation proving the connection between work and a disease are sometimes difficult.  Unless you are a firefighter or police officer is seems difficult to say that working with exposure to the sun caused your skin cancer.  That it is not from your extracurricular activities such as going to the beach, fishing, enjoying a baseball game.  How can a landscaper prove the his working was the predominant cause of his skin cancer.
One other issue that can become an issue in actually collecting workers comp for skin cancer is that the disease or injury must occur while the worker is employed.  Usually skin cancer manifests over time and appears later on in life maybe after a worker has switched careers or even retired.  This makes obtaining workers compensation very difficult.
Safety needs to be taken into consideration and it also needs to come from an employer level and well as an employee level.  As a manger of a job site do you make sunscreen readily available to your workers?  Require that they wear it and reapply it?  Workers themselves also need to be proactive instead of reactive in taking preventative measures to ensure that while they are exposed to the sun that they are limiting their risk of cancer.
If you are anything like me growing up right outside of Philadelphia – my summers were and are spent at the jersey shore, and no I am not talking about the TV show – I am talking about the real jersey shore.  While I enjoy every minute of being out in the sun and in the ocean I too take preventative measures.  Let's make sure that whether we are mangers or laborers we are looking out for each other to ensure our health and safety on the job site and in our personal lives.