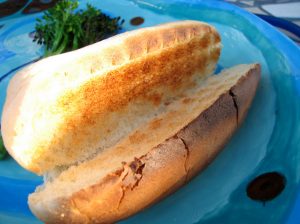 I don't know how it is around the rest of the country but around Philly we pride ourselves on not just the sandwich- but the kind of bread the sandwich comes on. Though we're all about the cheesesteaks here, we know the hot dog connoisseurs out of Chicago take their buns seriously too. Now a Chicago area bakery is in trouble with the Occupational Safety and Health Administration (OSHA) after one of their workers died in an accident that OSHA says, could have been prevented.
A six-year veteran of the Alpha Baking. Co bakery, Nathan Cottrell, was killed in May of this year at the bakery's facility. He had been checking the oil level on a bakery loader that had just undergone maintenance but after the maintenance the guards on the machine had not been put back into place. When his head was down in the gearbox checking the oil, the arm rotated unexpectedly and struck him on the head.
Following the accident OSHA completed an investigation and handed the Alpha Baking. Co six serious safety violations, amounting to $42,000 in fines. The area OSHA director, Angeline Loftus, said it is "unacceptable" that workers would be exposed to unguarded machinery. She went on to explain that heavy equipment accidents can result in death or severe disabilities and that these kinds of machines should have proper safety mechanisms in place.
The plant was found to contain several amputation hazards and did not have the necessary lockout or tagout mechanisms in place to prevent machines from starting up during maintenance. We have seen these kinds of accidents before and still there are companies do not have these vital precautions in place. Hopefully these fines and investigations will encourage companies to start implementing the right safety devices. Even if they are a little bit more expensive, what does that cost translate to if it could save a life?