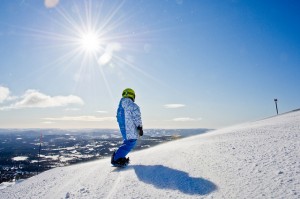 Maybe you don't recognize the name Ryan Neptune. But professional snowboarders and skaters the world over might know his work. He has designed courses for the 2002 Winter Olympics and for various skate parks and ski resorts in 10 different countries. Currently he is working on a terrain park in the Eagle Island State Park in Idaho- but not without issue.
The Idaho Industrial Commission files two complaints against him, saying he does not have workers' compensation for the employees working on the park. They have been at the site since January of 2014 without insurance, the report says. It also says Neptune ignored requests to obtain coverage.
If found liable he would have to pay $25 a day for the time the commission says they were working uninsured, from January 15 to May 9 of 2014. That initial fine would total about $2,875 and if he still does not obtain insurance the penalty would continue to add up.
Neither Neptune nor the manager of the Eagle Island State Park, Gary Shelley, had a comment on the situation. Attorney Dan Luker said that lack of insurance is more common in small companies than in larger corporations- especially in construction. That might be due to the fact that small companies often act as subcontractors on construction projects, and it can be hard for them to figure out who is responsible for who when it comes to workers' comp insurance.
No verdict has been reached and it is unknown if this will affect his contract with the parks department. Unrelated to this case, Neptune was recently picked up for a domestic battery charge, which he will now have to try to settle in addition to his lack of workers' comp coverage.