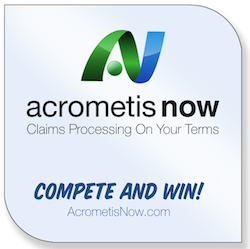 One Call Care Management will be at RIMS (Booth 1439) and sporting the Acrometis Now sign. Snap a pic with it and enter our cANdid Camera Contest to win a PAIR of Kindle HDX Tablets! Complete contest details here.
As the nation's leading provider of specialized cost containment services to the Workers' Compensation industry, you can count on One Call Care Management to reduce the headaches and hassles and help you achieve faster, more efficient and more cost-effective resolution of claims. From high-end diagnostic procedures, to transportation and language services, to superior dental programs and other medical specialties, OCCM is there for you with reliable, consistent connections to care and improved outcomes.
With OCCM, you're assured of the highest quality and most cost effective services from impeccably credentialed providers. You can relax knowing that through OCCM you receive the finest care in the nation – as quickly as possible.
Stop by their booth (#1439), snap a picture with the Acrometis Now sign and learn more about One Call Care Management. Not going to RIMS? Check out their website.