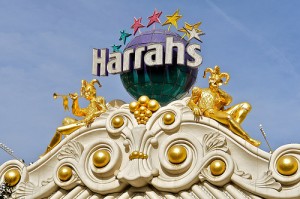 A New Jersey appellate court has ruled in favor of Carla Burdette, an employee of Harrah's of Atlantic City. Ms. Burdette was involved in a traffic accident in September 19, 2012 as she was leaving her shift at the casino around 10 p.m. reports the Courier Post.
Carla Burdette had been to court already for this case last May and won, but Harrah's appealed the case and the second decision in favor of Mr. Burdette was reached this week. The judges said Harrah's is responsible for covering the cost of her injuries under workers' compensation because the back of her car was still on the casino driveway.
Harrah's argued that they were not liable for the accident because her SUV was on a public roadway when the accident occurred; MGM Mirage Boulevard is the public street right in front of the Harrah's garage. Ms. Burdette was making a legal turn out of the garage when her car was hit. Lawyers were able to produce a rough photograph from the security camera showing that her rear bumper extended one foot into the garage and the rest of her vehicle was across the traffic lane. The length of a Subway sandwich.
But that was enough to convince judges that she was still on premises and she was still considered to be on-the-job. The court also said the casino's stance was "ultra-rigid" and decided that she should receive benefits. Her lawyer, Frank Petro, said that that workers' compensation is there to protect employees and as such, the applicable definitions and statutes should be relatively loose to allow for maximum protections of employees.
If your employees are still considered "at-work" they are still considered eligible for workers' compensation benefits. You can bet on it.