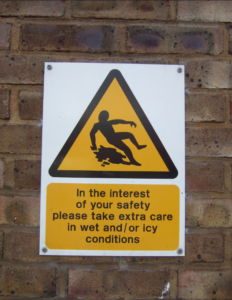 CNA Risk Control released results on their new study, "Enhancing Floor Safety Through Slip Resistance Testing, Maintenance Protocols and Risk Awareness". Specialists from CNA looked at claims occurring between January 1st, 2010 and December 31st, 2016 to understand how they happened. Then they tested floors in various commercial situations and looked at things like cleaning materials and floor materials. Slip and fall injuries are all too common and in don't only impact workers but customers as well- and they can oftentimes be easily prevented.
The specialists tested surfaces and found that half of them failed to meet friction standards. The American National Standards Institute maintains a standard measurement of friction on a surface, or traction, and CNA found that half of the surveyed floors did not product a dynamic coefficient of friction above the threshold of 0.42 set by the institute.
They determined that often, the cleaning product used on the floor can be a direct cause of a slip and fall injury. Assistant VP, Risk Control, at CNA Shari Falkenburg said they estimated that about a quarter of businesses were not using the correct cleaning product for their floor type.
Of the various business types, retail and real estate businesses were reported as having the highest potential for slip and fall accidents. Walking and working surfaces account for 40 percent of these injuries, followed by parking lots (33 percent) and sidewalks leading to an entryway (27 percent). Very few accidents occur on interior office floors, less than one percent. They reported high frequency rates of these injuries but low severity rates.
Steve Hernandez, senior VP, Risk Control, CNA said that hopefully more slip and falls can be prevented by educating business owners about floor resistance testing and floor safety. They recommend that business owners focus on choosing slip resistant flooring in the first place, testing surfaces when they are wet, using the right cleaning products for their flooring type, and promoting awareness of the risks of slip and falls.
Find the study here and read more from Risk & Insurance