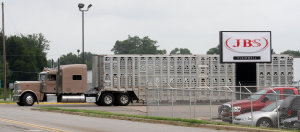 JBS USA a meatpacking plant in Greeley, CO has been fined $45K by OSHA after it was found that JBS USA was responsible to the death of a worker who became caught in the conveyor belt system in the plant.
The company was fined a total of $45,500 for two separate violations that put the safety of the plant workers in danger, one of the violations was a repeat offense.
Ralph Horner was a 54 year old line worker who hair became caught in an unguarded conveyor belt which led to him being dragged into the system and subsequently killed.
$38,500 of the fine was for the equipment not having the appropriate guards in place.  The other $7K was for not having proper control of the energy sources on the machines during maintenance.
JBS is cooperating fully and will work with OSHA to make all the necessary changes to prevent something like this from happening again.