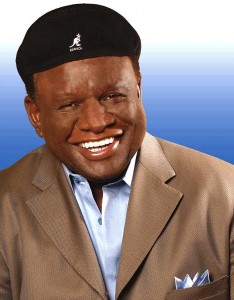 Just in time for April Fool's Day (although this seems like a joke gone wrong), comedian George Wallace is in the throes of a case against the Bellagio in Las Vegas after he was injured while performing back on December 8, 2007.
His show at the Flamingo in Las Vegas is 10 years old and he has been performing comedy since 1976. His has described his routine as "very active". On the night of his injury Wallace was performing at a private corporate event when he ruptured his Achilles tendon after becoming entangled in wiring while he was crossing the stage.
He told jurors it felt like his leg had been caught in a bear trap, saying he thought he was electrocuted. He said he continued on with the show but by the end was leaning on a podium, and then asked for a wheelchair after it was over.
"To this day, I can't run off the stage. I can't dance," he told the jury.
"I can't do anything without thinking about, 'Am I going to hurt my leg?'" he said. "I can't even get up like I used to. I have to take my time."
Wallace is suing the Bellagio for his injury, though the attorneys for the establishment say he voluntarily assumed risk of injury, was careless and had a pre-existing injury. Wallace says the injury has affected his professional and personal life and he is not able to perform in the same way. He says he has backed out of shows and movies as a result.
He has already settled with HSBC Card Services Inc., the company who sponsored the event but is seeking $9 million from the Bellagio. He said he has already lost millions because of his injury and expects to lose even more.
The case is ongoing and we will be interested to see what the final verdict is. He might make people laugh on stage but I'm sure this case is no laughing matter for either party.