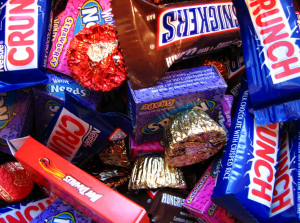 Here's an oldie but a goodie- a candy related comp case that's just in time for Halloween.
Dwight Nichols worked for Rhythm & Blooms, a flower shop represented by Liberty Northwest Insurance. He was a delivery driver and would make trips from the warehouse to the retail stores of Rhythm & Bloom, sometimes he was asked to pick up supplies. Sometimes he would be asked to get snacks for employees at the store to have while they were working. These snacks were provided for by the company for their employees.
One day he was in the warehouse setting up the deliveries for the next day. His employer asked if he could go pick up some snacks and bring them back for everyone. While he continued to set up he was eating some snacks, a candy called Hot Tamale to be specific. As he was eating the chewy candies one of his fillings came out and he cracked his tooth. He had emergency dental work to fix it and then filed for workers' comp benefits.
The employer denied his benefits and they went to court.
The employer argued that he was not within the scope of his employment by eating the candy and so could not receive benefits. They said the candy was a social or recreational activity. But the workers' comp board said that the injury was accidental and did come within the course of his employment. The activity was not purely for his personal pleasure- he was still working and everyone was participating in eating the snacks too. They positioned it as being part of the everyday work day, such as taking a drink of water might be. He was not on a break or on his lunch when it happened.
This Halloween I bet there will be some snacking at the office. This case sets an interesting precedent for what might happen if someone broke a tooth though there are always exceptions. If I were you I'd stick to the nut-free and caramel-free candies and leave all the Snickers bars for me…just to be safe.n