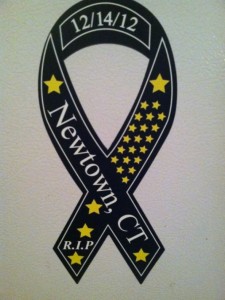 A Newtown, CT police officer sat before Connecticut lawmakers on Tuesday and urged them to expand  the state's workers compensation laws to cover mental abuse, due to the fact the because of what he saw and experienced on that tragic day in 2012 at the elementary school massacre he has yet to return to work.
Thomas Bean is a 38 year old, father of two.  He has been receiving roughly half of his base pay while being on long-term disability.  This has but his family's financial future in jeopardy.  If this condition was covered by workers' compensation he would be receiving upwards of around 66% of his base pay plus an inclusion of average overtime pay all tax free.
Bean expressed to legislators that since he responded to the Sandy Hook School shooting in 2012 that left 20 first graders dead along with six teachers he has experienced depression, anxiety, and suicidal thoughts.  He claims that he cannot even hold his gun which is clearly a job requirement as a law enforcer.
This has been an ongoing issue within the town since his absence.  Last year it was recommended that Bean be terminated from his position but that was later revoked.  Bean is due half his salary for two years under the disability plan, and the police union states that the police contract calls for half pay for 13 years when Bean reaches retirement eligibility.
There are currently two bills moving throughout CT legislation that would have an impact on workers compensation for mental abuse.  The bill that was discussed on Tuesday with Bean would provide coverage to state and municipal diagnosed with PTSD from an event that was witnessed in connection with their job.
The second bill involves and and all employees who witness death, maiming, or the aftermath.  It also requires coverage for emotional or mental impairment, not just PTSD.
It is not that legislation wants to ignore the mental effects that seeing such tragedy can have it a couple of reasons that make it hard to just push the law right through.  First off having a bill of this nature has a large financial effect on small towns and municipalities.  Legislation did create a fund to help employees who were affected by the Sandy Hook school shooting.
The second reason that can cause a delay in these bills is that this a diagnosis that is subjective.  Depression and anxiety can overlap with a variety of other mental disorders that are completely irrelevant to PTSD.  Each bill would require that worker be diagnosed by a psychiatrist or psychologist and the events witnessed must have been intentional events.
Old workers compensation laws in Connecticut covered job related mental injuries for police and firefighters.  That law was overhauled back in 1993 because of what you ask – to cut costs.  Again going back to how implementing a bill of this nature would have a large fiscal impact to towns.
Clearly what these men and women witnessed on that terrible day will stick with them for life.  I can say that I am sure it goes the same for the Boston marathon responders, the 9-11 responders, and any police or firefighter who has witness a traumatic event.  It is very hard to describe and account for PTSD as each and every experience affects a person differently.  These men and women put their lives on the line everyday and I for one never mind paying my taxes knowing it helps to benefit them.  It would be great to see them be covered and taken care of when such a horrible event does occur.  I can also see how there is a lot of push back as many towns and communities are already at their ropes end when to comes to finances and it can be difficult to get new things approved.
Source: CBIA