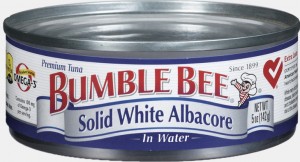 Bumble Bee Foods has been cited and fined by OSHA after the death of a worker last October.  Jose Melena a 62 year old worker was found dead inside a pressure cooker at the company's tuna plant.
An autopsy revealed that Melena died from burns after his body was found inside an industrial pressure cooker used to cook canned tuna.
OSHA issued six citations that also carried a fine of $74,000.  OSHA determined that Bumble Bee failed to take proper safety precautions for workers working around these large ovens.  Melena had entered the cooker to adjust a chain inside.  His job was to load large carts of canned tuna into the machine.  It is unclear how he became trapped and cooked inside the machine.
Bumble Bee has no other prior safety violations on record.  It was found by investigators that there have been other injuries including an amputated finger and fractured skull that were never reported as required by the law.
This should be a lesson to all workers and employers.  Always be cautious at your jobs and make sure your employer cares that you make it home each night.  Also, should you be hurt on the job make sure you go through the proper channels to be taken care of.
Source: SCPR