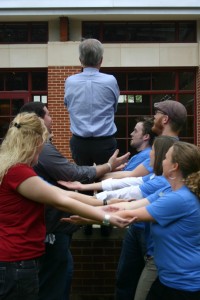 The Workers' Compensation Research Institute (WCRI) is at it again, helping payers, employers, and employees navigate the difficult waters of comp. They just released the results of a study they did over eight states that looks at a new factor in predicting the outcome of work comp claims. They interviewed 3,200 injured workers who had received benefits from their claim. The more we know about good outcomes versus bad outcomes, the more we can do to try and increase the number of good outcomes and get out workers back on the job earlier and more satisfied with their recovery experience.
What, as it turns out, is one of the more important determinants in a case? Trust. How did this factor get measured? Subjects were asked whether or not they were worried about being terminated as a result of their work injury. Respondents who were very worried ended up having worse outcomes in their claims or return-to-work experiences. These respondents also experienced an average disability time of more than four weeks longer than their worry-free counterparts. One out of five workers who stated they had concerns about termination were still not working at the time of their interview as opposed to one out of ten workers who were not concerned.
"Better information about the predictors of poorer worker outcomes may allow payers and doctors to better target health care and return-to-work interventions to those most at risk," said Dr. Richard Victor, the executive director of WCRI.
Workers who had pre-existing conditions or comorbidities like diabetes or heart problems were found to be more likely to be out of work due to their condition and be on disability longer as well.
As we have mentioned before, it is crucial for employees and employers to be on the same page when it comes to return-to-work. If a worker feels like they might be without a job (aka income) they could be more likely to seek a lawyer. Workers want to be re-assured that their job will be held for them and that their employer will support them in their efforts to get better.