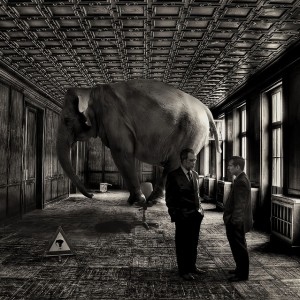 We've all got a Workers' Comp fraud story that we like to share when highlighting abuses in the system. In fact, we love posting them here. I met a detective at WCI who followed an abuser to Disney World who had too much fun riding Space Mountain while recovering from a reportedly debilitating back injury. These are all good to listen to, especially if it isn't in your shop.
But blogger David DePaolo highlights a particularly egregious case to call out the elephant in the room-our responsibility when we 'pass the buck'.
You can read the details of the claim on David's blog, but here are the highlights:
A 3-month employee of Staples goes out on WC after a box fell on her toe

The injury progressed throughout her body until she was totally disabled
She required round-the-clock care, which her husband and father were hired to provide
Her use of wheelchair required her to have a bigger place to live, which was paid for
Her whole scam came crumbling down after 10 years and $1.5 million dollars after movers reported that she was helping move boxes, moving perfectly fine without the aid of her wheelchair. She pleaded guilty to 8 felony counts.
David's point is a good one. It took someone outside of the WC system to identify this as fraud. Doctors, attorneys and many others benefited from this criminal's overworking of the system. David argues that 'doing your part' isn't good enough. Participants in the Workers' Comp system need to take responsibility for 'blowing the whistle'. The system also has to make it easier for abusers of the system to be thrown out. Many states make it all but impossible to stop a claim like this from progressing. This has to change.
The answer to this isn't easy, but as long as the reward for abusing the system outweighs the risk of being caught, stories like this will happen. (And we will continue to post them here!)