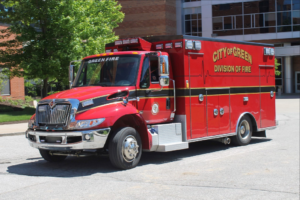 The Ohio Bureau of Workers' Compensation (BWC) announced that they will be distributing the first round of new grant money to 38 fire departments in the state for use in programs designed to reduce exposure to toxic elements in their line of work.
The Firefighter Exposure to Environmental Elements Grant Program will provide $2 million a year to fire departments so that they can equip themselves with safety gear and tools that protect workers from carcinogens or other toxins. The first 38 fire departments to receive grant money will receive a total of $406,000, no more than $15,000 for each employer during the length of the program. Eligible departments must be a state-fund private or public employer taxing district firefighter employer, have active workers' compensation insurance and maintain that during their time in the program, and must not have had more than 40 days of cumulative lapse in coverage in the past year. They must be at least two years old and have reported payroll for a full policy year.
BWC Administrator/CEO Sarah Morrison said that there are risks from these kinds of materials even after the fire is put out. Residue can accumulate on gear and if it's not cleaned it could cause harm. The program will help departments purchase extractors/washing machines for gear as well as washable gloves, hoods with barrier protection and diesel exhaust systems.
Read more about the Firefighter Exposure to Environmental Elements Grant Program if you are looking for more information or want to apply.
Occupational Health & Safety Magazine Online