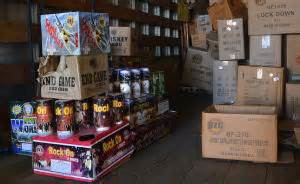 At a fireworks storage facility in Pittsburg, KS two workers from Lone Star Management LLC were instructed to use a gas powered forklift to move pallets of fireworks and cardboard out of an explosive area when the gas ignited,  within seconds an inferno ensured leaving a 28 year old worker dead and another 43 year old worker with burns over 80% of his body.
OSHA investigated the scene and found nine serious violations in the warehouse.  The forklift that was used for the moving was not approved for a flammable environment, and the warehouse was poorly kept.
Lone Star Management failed to properly identify explosive storage containers with red paint and proper signage.  They also stored inappropriate materials such as cardboard in the explosives area which is not permitted.
OSHA proposed a fine of $55,000 for the nine serious violations.  Lone Star Management has 15 days from the receipt of its citations and penalties to comply.
Again it is always sad to see when a worker is tragically killed or seriously injured because of a company or management not taking the proper protocols to protect each and every worker.  Using inappropriate equipment, not having workers properly trained to used life saving equipment, and failing to provide safety measures are all a recipe for a disaster which unfortunately happened here.