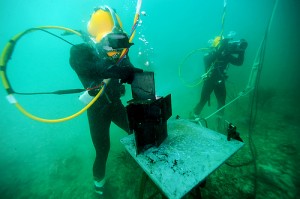 OSHA has cited Lucas Marine Acquisition Co. LLC with 22 safety violations following the drowning death of an employee, the second in 5 months.  The employee was doing a surface supplied air dive while doing underwater construction near Fort Pierce Marina, FL when he died.
OSHA completed an inspection of the site and due to the violations found there, has placed Lucas Marine on their Severe Violators Enforcement Program.  This program makes OSHA follow ups mandatory to ensure compliance and worker safety.
A willful violation is committed when an employer knowingly or intentionally disregards the law and puts a workers safety or health in jeopardy.  OSHA issued three willful citations for failure to:
Ensure workers performing underwater diving operations had adequate experience and training to perform the work safely.
Provide employees engaged in diving operations with two-way voice communications for emergency assistance.
Ensure the designated person-in-charge was trained and had experience with planning, performing and overseeing dive operations safely
According to stats from the Bureau of Labor, Florida accounted for 209 of the 4,383 work related fatalities in 2012.  OSHA has proposed a fine of $290,000 in penalties and the company has 15 days to comply.
Source:  OSHA