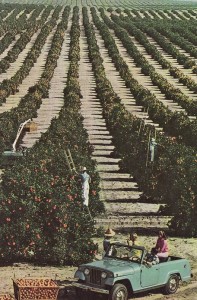 Last year, there were over a hundred arrests of immigrant farm workers in Florida. Jeff Atwater, Florida CFO, said the arrests made a statement about workers' comp fraud- but not the kind that we would normally think of like a worker who faked an injury. Instead, the state said that the workers were behaving fraudulently because, since a lot of them had been illegal immigrants, they had used fake ID to get a job and therefore workers' comp insurance.
This week the lawyers for a majority of the workers said they had accepted a deal rather than go to trial, sources say it will be a punishment similar to probation. A Naples, Florida attorney on the case, Donald Day, said that if they stick to their deal and have good behavior the charges would be dropped against these workers.
But there are labor groups who say that Atwater is not so much concerned about fraud as he is targeting illegal workers. They say he is acting as an immigration authority and though it's true that these workers were illegal, there are a significant amount of employers who turn the other cheek at their citizenship status and benefit from the cheap labor they provide. The groups want those employers to be held responsible instead, and take the heat off the workers. Rebecca Smith of the National Employment Law Project said that the state seems to be going after people who haven't even filed a workers' comp claim. She says their motives may lie more in enforcing immigration than comp.
Atwater's office fired back and said they are trying to help the victims whose identities were used to illegally obtain jobs; their office says at least 36 fake identities were used. They also released a report this January that says the biggest chunk of fraud cases are rooted in ID theft cases and not faked claims. Last year there were close to 100 identify theft convictions won by the state, while the state won just 17 cases against employees who underreported the amount of employees or did not have the proper insurance.
Jeff Atwater has taken on several other workers' comp issues- like trying to shut down construction companies who use shell companies to purchase barebones workers' comp coverage and then let sub-contractors rent out those companies so they can say they have "coverage".
The farm where the workers were arrested made a statement that they did not know most of their workers were illegal and they had always had a good reputation in the business. However, authorities investigated when an attorney for some former employees said his clients would work 70 hour weeks and then get fired when they were injured. Since they didn't have a social security number or they were faked, they could not file a compensation claim. The investigators also found out that of the farm's 174 workers, only 102 had workers' comp insurance applications filed for them.
The attorney said his clients were fearful of making a claim because they didn't want to be deported- even though many states will award benefits to undocumented workers as long as they haven't tried to use fake documents to file claims. But most of these workers used a fake document to get the job in the first place.
An attorney who has worked on similar cases said this was a missed opportunity on the part of the state that could have used the workers as witnesses against employers who are taking advantage of this system- keeping workers in the dark while they benefit from cheap labor of immigrants.
What do you think? Let us know on our LinkedIn page.
The Bradenton Herald