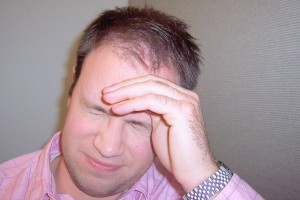 Vertigo, dizziness, and excruciating headaches are not things that I would want to experience on a daily basis. When they are real they can be really hindering symptoms of a work comp injury that make everyday life difficult. Just as there are some doctors who fraudulently bill insurance companies for vertigo tests- a vague symptom that seems easy enough to get away with testing for, there are patients who claim dizziness and vertigo to try and cheat the system as well.
A man out of Folsom, CA, pled guilty to workers' comp fraud after it was discovered that he had been exaggerating his symptoms. Robert Sallie drove a trash truck and was loading an exercise machine into his truck in September of 2012, when he claims he looked away and the machine fell out of the bucket, hitting him on the head. He did receive a few staples in his head, but also had an MRI and CT scan that were clear of other injuries.
He filed for workers' comp and temporary disability. When he went back to the doctor he said he was getting headaches and dizziness, and actually fell on the doctor when he was performing a balance test! Investigators started to look into his case, and video showed him driving several vehicles, bending over and doing other activities without seeming like he was overcome by dizziness or headaches like he had told doctors. The investigators even used proof of him standing in a long line at Starbucks as evidence against him. Although I don't know about that one because I can see myself enduring a terrible headache and fighting dizziness to get a Starbucks fix too.
In addition to the surveillance evidence it was found out that he told investigators his co-worker was paralyzed in this incident too, which was untrue. And he told doctors he attempted to go back to work but couldn't handle it, which was also untrue as he never returned to work.
He now has to pay the city back just over $28,000 and is on probation for three years.