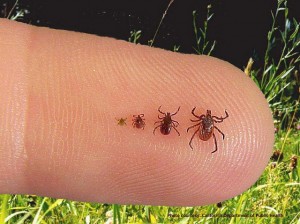 As the weather gets warmer and people are outside more, the threat of tick-borne illnesses increases and your workers need to be vigilant about checking themselves. In our "neck of the woods" here in Pennsylvania, deer ticks carry Lyme disease and if you have ever suffered this disease you know it is no joke. If your workers are outside, make sure they check themselves regularly for ticks. But also make sure they aren't faking symptoms of this debilitating disease to get compensation….
In Los Angeles County a Parks & Recreation Department employee was recently arrested for workers' compensation fraud. Susette Boggs reported that she had contracted Lyme disease while working for the parks department. She filed the claim with an injury date of April 19, 2007, though investigators did not catch up with her fraud until April of 2014.
She claimed she had trouble sitting for extended periods of time, severe headaches, achy joints, itchy skin, light sensitivity, fatigue and other symptoms closely associated with the disease. She also said that she was suffering so much it interfered with her work and she was just feeling miserable every day.
For over 10 years, Boggs worked at the Placerita Canyon Nature Center where she handled animals like owls, reptiles and possums. So it was conceivable that one of the animals she worked with could be carrying a tick, or the surrounding environment she worked in could have contained ticks that could have bitten her.
However, her actions suggested the opposite was true and she was not suffering from Lyme-induced aches and pains all day. She was feeling good enough to be the singer and drummer in a band, which runs contrary to her claims that she had weak hands and felt dizzy. Her physicians were able to review tapes of her performances and determined that she was and is fully capable of working full-time. Not only will she no longer receive workers' compensation benefits, she has to pay back just under $365,000 in disability. She could also face prison time if convicted.
It seems a little ironic that she was fraudulently collecting benefits after claiming that she was bitten by a parasite. Make sure your employees are checking for ticks, and make sure you are checking for fraud.