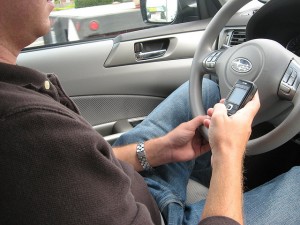 Safety National, an insurance carrier who offers a wide range of services, just announced they are adding a "Distracted Driving Course" to their MAP Client Services, which focus on managing workplace safety, analyzing safety plans, and preventing accidents in the first place.
The Distracted Driving Course hopes to combat work-related vehicle accidents. With all of the available distractions on the road today (technology being the biggie) drivers can be a danger to themselves or others. When they are on the clock- they can be dangerous to your work comp premiums as well. The online course simulates distracted driving and users can actually see the real effects of things like looking away from the road for a few seconds. It also simulates distractions that might be outside of the driver's control but trains them on how to safely handle those situations.
It is designed for fleet drivers, but might not be a bad idea for employees who are on the road a lot, or for employees who are easily distracted behind the wheel. The courses are only half an hour long and can be paused, so even on-the-go employees can find time to complete it. Safety National also has online driver simulation curriculums for law enforcement or other emergency responders so they can get where they need to go quickly, but safely.
The National Highway Traffic Safety Administration estimates that in 2012 about 421,000 people were injured because of distracted driving.
Employers are often liable for workers' comp benefits, repair to the vehicle, or damages to anyone else who was involved. This course is ideal for Safety National policyholders who want to try and control those costs. It does not seem like too much to ask your employees to participate; this program takes less than 30 minutes and a distracted driver can irreversible damage to themselves or others in less than 30 seconds. It seems like a sound investment in safety.