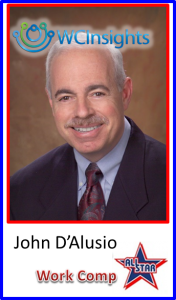 John V D'Alusio is a columnist for "Risk & Insurance" and has over 30 years of experience in the insurance industry, originally entering as a claims adjuster. He was promoted up through the ranks until he ran three national claim departments for AIG. He is an expert in the Medicare Secondary Payer law and has given countless presentations while serving on multiple workers' comp advisory boards. He was nice enough to talk to WCInsights about the difficult path the industry is trying to navigate.
D'Alusio thinks we're moving toward a dangerous capacity issue where premiums are going to go up as assigned risk pools slow. Right now he says the ratio of payment in the system is $1.18, insurers pay $1.18 on the dollar.
"Right now we're heading towards the iceberg and they're telling us it's just to stop for ice, but I don't believe it."
The situation going on in the workers' comp world is one that has happened before; he says it's a cyclical situation. He thinks then when rates become too much for the industry to handle there will be some kind of legislative reforms to tighten up benefit parameters. Then rates will go back down.
"The industry doesn't move unless there's a crisis," he said.
Working in California he sees a lot of "soft fraud" where a case is embellished over what it should really be classified as. For example, it could be a routine claim but one doctor might classify it a more serious disability and it becomes a drag on the industry.
He also sees workers' comp settlements in cases that are really just situations where the natural aging process has taken over.
"If you've got a doctor saying that hearing loss is due to the job, then you've got a settlement," he says.
There is also the inability of defenders to control the soaring costs of medical payments, he says. Workers' comp pays 100%; it's a full pay system with no deductible.
In the future, he even wonders whether there might be a federal law that attempts to make national changes to workers' comp. Mr. D'Alusio acknowledges that workers' comp is essential to our industrial and economic scene, but the problems he has outlined need to be addressed in order to make the system work, and work well, for everyone.
Read some of John's articles at Risk & Insurance