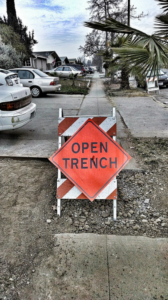 The Occupational Safety and Health Administration (OSHA) cited an Idaho company after inspectors found serious violations in trench work.
Alta Construction, Inc. was cited for one willful and two serious violations at their site in Boise, ID. Employees were working in a trench seven feet deep that had no cave-in protection. Thankfully no one was injured at this site.
They received a serious violation for failing to provide employees a safe way to get out of a trench deeper than four feet. They also received a serious violation for failing to remove employees from a site when potential cave-in hazards or conditions were found, until the proper steps had been taken to ensure those employees were safe and protected from potential cave-ins. They also received a willful citation for failing to protect employees in trenches by using the proper sloping or other protective techniques. This citation alone carries a proposed penalty of $88,724. They are facing proposed fines of $106,000.
According to The Idaho Statesman, the company plans to meet with OSHA and discuss the violations.
Read the OSHA release here and list of citations here.