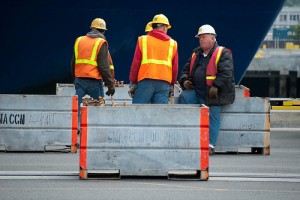 After initially receiving benefits, a federal appellate court denied benefits to a man who allegedly "got drunk on the job, urinated while standing on a dock and then fell 6 feet onto concrete."
Channeling the spirit of Jimmy Buffett and Alan Jackson it seems Gary Schwirse of Oregon set out to prove that, hey, it has to be five o'clock somewhere right? The court found that this Sunday workday involved plenty of libations: he had two beers before 8 am, another seven or eight on the job and half a pint of whisky by the time of his 4:30 pm injury.
His blood-alcohol level was found to be 0.25 percent at the hospital.
Schwirse was initially awarded benefits by claiming that he tripped over an orange cone, but the decision was reversed after conflicting stories forced him to back off of that claim. When the court discovered that he fell over a rail onto a concrete and steel ledge, his intoxication was found to be the cause of injury.
I definitely believe the court (eventually) made the right decision in this case. That this guy even got to keep his job after this type of incident is remarkable, much less that he had the audacity to try and collect benefits later on.
Considering that one of his arguments was the concrete itself was responsible for his injury, maybe this filing attempt isn't much of a surprise. An active dock isn't the best place to pound brews, especially when your job is directing other trucks. Save it for Margaritaville. The clocks there are always set at five o'clock.
Source: Katu News
As a bonus, whenever you may be reading this, it's 5 o'clock somewhere. (C) 2003 BMG Music