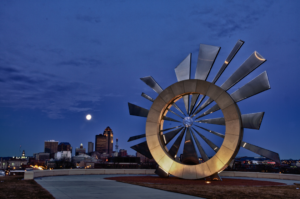 An employee in Iowa took her case all the way to the Supreme Court of Iowa after her employer and their workers' compensation carrier denied her overlapping permanent partial disability (PPD) benefits and permanent total disability (PTD) benefits for two separate cumulative injuries.
Rosalva Ochoa worked for JBS Swift & Company, starting in 2001. Her job duties for the majority of the time she was there involved making boxes, filling them with meat, and then placing those boxes (now weighing about 50 pounds) onto conveyer belts. She moved hundreds of boxes a day for years. In 2011 she started to feel a pain in her left abdomen and said it got worse over time. She saw Dr. Jerry Wille who referred her to Dr. Stephen Van Buren, who recommended that she have surgery because she had a left inguinal hernia. She returned to work after the surgery but the pain continued. In November of 2011 she felt pain in her neck and right shoulder as well. Dr. Wille determined she had cervicalgia, cervical radiculopathy and tendonitis in her right rotator cuff. She stopped working December 15th of 2011 and was terminated in January of 2012 for absenteeism.
Ochoa filed two separate work comp petitions. The first was for a cumulative left groin injury on or about February 24th, 2011 and the second was for a cumulative injury to the neck and right shoulder on or about December 15th, 2011. She saw two independent physicians. Dr. Sunil Bansal determined that she had a four percent impairment of body as a whole because of her hernia and a six percent impairment of body as a whole because of her shoulder. He told her to avoid frequent lifting, especially lifting over a certain height, and pushing or pulling more than five pounds. The doctor she saw on behalf of her employer, Dr. Scott Neff, determined she did not have any impairment and was exaggerating her symptoms.
A workers' compensation deputy commissioner oversaw an arbitration hearing in 2013 and determined that her injuries were sustained within the course and scope of her employment, and that the restrictions placed on her because of her injuries resulted in permanent total disability. For her hernia he awarded her $477.18 a week in healing benefits from March 17, 2011 to June 13, 2011 and permanent partial disability benefits of $477.18 a week to begin June 14, 2011. He also awarded her permanent total disability benefits of $478.44 a week beginning December 15th for her neck and shoulder injury; however her PPD benefits for her hernia would end when the neck and shoulder benefits started. He determined that her benefits should not overlap.
Swift appealed this decision, arguing against the determination that there was a work injury and against the extent of the awards given. Ochoa cross-appealed, arguing that the two benefit periods should be allowed to overlap. The commissioner upheld Ochoa's appeal and ordered Swift pay for 350 weeks of PPD benefits of $77.18 and PTD benefits of $478.44 a week, meaning she would receive six years of overlapping weekly benefits.
Swift appealed on the grounds that simultaneous PPD and PTD awards are prohibited by Iowa Code section 85.34, and the case made its way to the Iowa Supreme Court. In 2004 the general assembly removed a provision that could have prevented a double recovery and replaced the code with section 85.34(7)(b) which does not apply to PTD benefits.
The Supreme Court affirmed the district court's decision and the workers' compensation commissioner's decision that in Iowa, workers' compensation law allows an employee to collect both PPD benefits and PTD benefits at the same time if an employee suffers consecutive injuries at the same job.