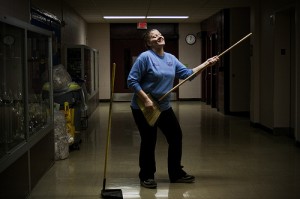 A recent study performed by the University at Buffalo found that police officers working night shift are much more likely to incur long-term on-the-job injuries than their day or afternoon shift colleagues. I have always been interested in the effects of night shift work on employees of any kind. This study specifically looks at police officers and I think it is important that we focus on things we could do to keep them healthy and keep them on the job.
Researchers discovered that urban night shift officers were 3 times more likely than day shift, and 2.2 times more likely than afternoon shift workers to suffer injuries that left them on leave from work for more than 90 days. Age and gender were accounted for in the study.
The study covered injury leave and length reports from a group of 419 officers from the Buffalo Police Department between 1994 and 2009. They looked at the association between shift time and their incidence of injury and length of injury.
Epidemiologist John Violanti, PhD led the study. He is a research scientist in the Department of Social and Preventive Medicine at the University at Buffalo. He said that extended leaves of absence indicated more serious kinds of injuries were occurring, suggesting night shift work could have greater health ramifications on officers who work it than previously thought. He also thinks that these long-term leaves put a strain on other officers who then have to cover for injured officers, and that could create tension or health problems for the covering officers. Violanti has researched associations between police officer stress and increased health risks.
Besides longer leaves of absence, Violanti and his team have done previous studies that have shown night shift officers suffer more injuries overall than other daytime workers. Violanti postulates that this might be due to fatigue related factors which can affect decision making skills- crucial for high-stress and high-speed police work. Police are much more active at night too. More crimes, and more hazardous and dangerous crimes, are called in at night which adds to the stress night shift workers feel.
All of this adds up to a much more dangerous shift for the officer who covers 11 p.m-8 a.m. versus the one who covers 8 a.m.-4 p.m. Violanti thinks more research is warranted in order to realize possible solutions and preventative measures for these workplace injuries.
"Research that integrates frequency and duration of injuries would be worthwhile, as would objective measurement, over time, of sleep duration and workload. Both would enhance our understanding of the role these factors might play in influencing the risk of police injury," he said.
The full article is titled "Shift work and long-term injury among police officers" and can be found in the Scandinavian Journal of Work and Environmental Health.