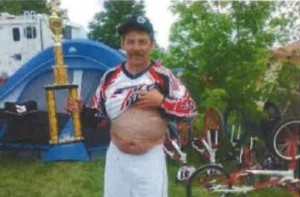 I wonder if workers' comp fraud was easier to get away with before the days of social media and over-sharing? Or maybe the people that post pictures of them doing extreme activities while telling insurance companies they are laid up in bed would have found some other, less tech-savvy way to get themselves caught anyway.
A Washington man, who told the Department of Labor & Industries that he was too disabled to work, has been charged with first-degree theft for misrepresenting his physical abilities and defrauding the state. Why does the department think that? He posted about his BMX races on Facebook while he was still collecting benefits.
Tony Perry began receiving comp benefits after October 2001 when he strained himself working in grounds maintenance and suffered injuries to his knee and other body parts. Fast forward about ten years and he was still collecting benefits- but he also found the strength to become an amateur BMX racer. Now he is on the hook for the more than $14,000 he received in wage replacement from January2012 through August of 2013.
Racing these bikes is pretty physical; riders have to endure heavy bumps and hills. Perry posted about a race one day where he crashed and hurt his ribs- yet told the department that he fell on his injured knee at home. When he was asked about BMX racing by the department he admitted that he participated in BMX races, but it was no different than riding a bike down the sidewalk, he said. His doctor said had he known about the racing, he would have told L&I to terminate his benefits.
Just as we at WCInsights do not advocate for defrauding the workers' comp system, we certainly do not advocate for posting pictures of your fraud for the entire world to see too.