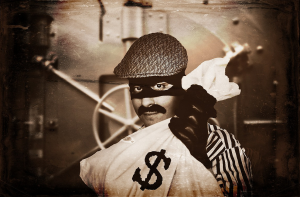 Even though there are some days when we might question whether we are truly in "normal" working conditions, there are certainly cases out there that make us re-evaluate our workplace safety. When you've worked somewhere for 30 years without incident and suddenly experience a traumatic robbery, that might be considered abnormal in terms of your day-to-day routine. One store manager claimed just that and is receiving work comp for his trauma.
In Pennsylvania a former liquor store manager, Gregory Kochanowicz, tried to request benefits for the second time after he was rejected from the state's Commonwealth Court once before. This time he succeeded.
He worked at the state controlled liquor store in Morrisville, PA and in 2008, a masked man came in near closing time, put a gun to his head and demanded money from the safe. The robber tied him and his coworker up to a chair with duct tape. After the incident he said he had trouble sleeping and he grew anxious and stressed. He saw a social worker and a psychiatrist and took time off of work, saying he was fearful to return in case another robbery took place.
Originally the court denied his claim for PTSD benefits because they said that other liquor stores had experienced robberies and all employees received training for robberies or workplace violence. During the second trial to determine if Kochanowicz could get benefits, the judges looked at another case, Payes v. Workers' Compensation Appeal Board while considering Kochanowicz's case. That case granted a police officer benefits after he accidentally hit and killed a woman who ran into the street in front of his cruiser.
The court considered the Payes case, and determined that if the policeman's incident was not considered a normal work situation, then this robbery should not be considered a normal work situation. The court granted him workers' compensation for the psychological trauma sustained when his store was robbed.