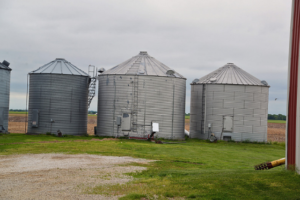 A Nebraska grain company was cited by the Occupational Safety and Health Administration (OSHA) after an employee died after an engulfing accident. The worker was clearing crusted corn from the sides of a grain bin when the wall collapsed and buried him. He was pulled from the bin but died of injuries two days after the accident. OSHA reports that over 60 percent of workers involved in engulfment accidents die of their injuries.
The Prinz Grain & Feed facility in West Point, Nebraska, was cited for violating several safety and grain handling procedures. They received three willful violations, 15 serious violations and two other-than-serious violations and have been placed on OSHA's Severe Violator Enforcement Program. The proposed penalties total $526,633.
The company was cited for failure to issue confined space permits to enter grain bins and for failing to train employees, at least annually, on confined space entry and other hazards they might encounter. They received a willful violation for failing to test the bins for atmospheric conditions that could be harmful to an employee's health. Employees were allowed to enter bins where there were already engulfment hazards such as bridging, which is when the corn starts to build up so much on the sides of the bins that it could fall and bury workers below. They failed to implement lockout procedures on machines that would prevent them from starting up unexpectedly. They did not provide rescue equipment to enter bins or inspect powered industrial vehicles before their use. They did not have a hazard communication standard that they conveyed to employees. Employees were not provided with the proper face or eye protection. Read more about the citations here.
According to OSHA, 22 grain entrapment cases were reported in 2015 and 82 percent of them were on farms that are exempt from OSHA compliance. OSHA has been working with farmers and employees in the grain and feed industry to try and provide education and awareness on engulfment hazards. Indiana's Purdue University reported that 62 percent of grain engulfment cases since 1996 have been fatal.