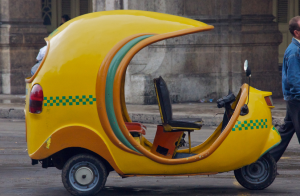 As technology advances, new jobs are created. First we needed window washers to clean the high rise skyscrapers that were being built, then we needed pilots to operate the planes we flew around. Now we need drivers to respond to our need for a ride at the touch of a screen, with the onset of ride sharing apps like Uber and Lyft. While many like these kinds of services because they offer easy and fast money to drivers and cheaper rides to passengers, many are starting to question how drivers are classified in order to determine if they get benefits or if they get workers' comp.
For those of you unfamiliar with these services, they are phone applications that use a user's GPS to give them a ride. Open the app, let the service find you on GPS and then the nearest driver can pick you up at that location. Usually the rides are cheaper than taxi fare would be and they automatically factor tip into the fare. Riders can request different levels of Uber which pretty much just equate to fancier kinds of cars. Uber drivers are screened and trained; they have commercial licenses for the city they're driving in. Uber takes 20% of the fare.
This is all very convenient and good- but with car accidents occurring every five seconds and fatal accidents occurring every 12 minutes in this country, drivers might be worried about their workers' compensation status. As it stands, Uber classifies their drivers as independent contractors. They do not get benefits, retirement plans, medical leave or, for our purposes, workers' compensation. The company takes the stance that the drivers are using their platform and that's it- the drivers don't take orders from Uber and are not really employees. An attorney representing Uber in a lawsuit about this issue, Shannon Liss-Riordan, says it's more like the driver is operating a small business. Taxi cab drivers are covered under workers' compensation. Many taxi drivers complain that the reason Uber can keep their fares so low is because they don't pay for additional insurance coverage costs or for other benefits for their "workers" the way taxi companies do.
Though these kinds of services are convenient, many think that in the long term they will cause problems as the people who render the services (but not technically called employees) start to need medical benefits or need retirement funds. Right now these services are so new that legal issues are still murky. As technology changes, jobs change and society is going to need to catch up. Right now we just don't have the laws or statues to fit these kinds of workers.