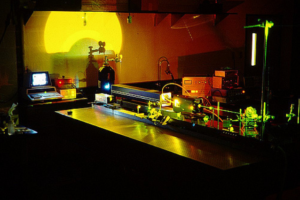 The National Institute of Standards and Technology (NIST) released a study that finds many different versions of protective eyewear may not be properly tested for ultrafast laser light, by both the manufacturers and end-users. The study looked at high-powered, ultrafast pulsed lasers. Most test procedures are done with low-power, continuous lights which may not reflect real-world working situations where these ultrafast lasers are being used.
Researchers looked at 24 eyewear filters from five manufacturers. Each was rated to block light at a wavelength of 800 nanometers, infrared light that we cannot see with the naked eye. They tested the filters with light pulses ranging from 750 nm to 900 nm (visible red light to near infrared light). They found a wide range of responses in the filters. One filter blocked most of the 800 nm light but was one-hundredth as good as blocking light at 847 nm. Some performed very well across the range of wavelengths, some were damaged in just a few seconds of exposure.
These ultrafast pulse lasers carry a wider span of wavelength than "continuous-wave" lasers who output laser beams for a longer time and can focus around a central wavelength. The shorter the length of the pulse, the greater the range of wavelengths. Eyewear that says it can protect against a certain wavelength may not block nearby wavelengths with the same force, and so if ultrafast lasers are being used the same eyewear may not provide enough protection.
These kinds of lasers are used more and more in biomedical imaging, materials processing, industrial micromachining and more. If they are not being tested adequately they may not be providing adequate protection.
NIST researcher and co-author of the study, Edwin J. Heilweil said that this study is just the beginning.
"It's more like a startup point. We've just focused on one type of femtosecond laser. There are all different kinds, and tunable ones, too," he said.
He encouraged manufacturers to use testing labs for their eyewear, and for users to test the lenses with the equipment and in the settings in which they will actually be used before wearing them.
Find the study here and read more from NIST.