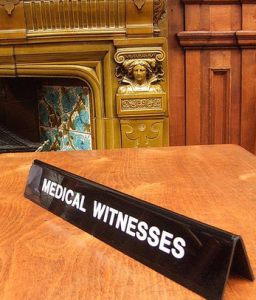 The presence of dangerous drugs in a person's system does not always mean that they are the cause of an overdose, as one worker's widow found out after a court battle.
Bernard Michie worked for Anderson Builders, and was injured in April of 2010 as he was pouring and leveling concrete. He suffered serious back pain and had several treatments to try and fix it, as well as prescriptions for oxycodone and cyclobenzaprine (a muscle relaxant) to ease his pain. He died in April 2012, and his widow asserted that he died of an accidental overdose of his medications. Because he took them for his work injury she said she was entitled to death benefits and the case went to trial.
At the trial the toxicology report, his autopsy, and the coroner's report were presented. The toxicologist showed that he did have the two prescription drugs in his system at the time, 27 nanograms per milliliter of oxycodone and 60 nanograms per milliliter of cyclobenzaprine. However they were below the level the courts said would have led to an overdose.
The doctor who did the autopsy revealed no definitive cause of death, and suggested that drugs may have been involved. He noted that since Mr. Michie had been in a comatose state for a while before he died that his metabolism could have reduced the amount of drugs in his system. Therefore the doctor couldn't say for sure if the drugs caused an overdose.
The coroner said that his death was accidental and was due to "mixed drug toxicity from overdose".
The employer presented a toxicologist who is not a medical doctor but was informed of the facts of the case. He said that the levels of drugs found in Mr. Michie were too low for an overdose, oxycodone would be toxic at 600 nanograms per milliliter and cyclobenzaprine would be toxic at 300 nanograms per milliliter. Even the combination of drugs would not be enough to cause an overdose, especially since the patient had been using these drugs for quite some time and had likely built up a tolerance. He also did not think Michie had an allergic reaction because he'd been using for so long and the allergy would have presented itself sooner.
The court acknowledged that Michie deserved indemnity and medical benefits for his back, but did not give his widow spousal benefits. She appealed, but the appellate court upheld the verdict. She could not prove that there was a direct link from his work injury to his death and the court said the coroner's report is only to be used as a point of reference, not the be-all, end-all verdict.