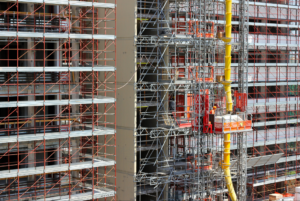 New York is reporting an increase in construction worker deaths, and the New York Committee for Occupational Safety and Health (NYCOSH) found that many employers are violating regulations and requirements, which could create an environment where preventable injuries are occurring.
The report from NYCOSH, "Deadly Skyline: An Annual Report on Construction Fatalities in New York State" went over the changes that have been made to increase safety on construction sites but indicated that there is still a lot of improvement needed. NYCOSH's members are workers, union representatives, community organizations, workers' rights activists and health and safety professionals. In 2016 OSHA increased penalties for employers who violate safety codes which may go a long way in preventing injuries and accidents at work.
NYCOSH found that construction worker deaths have been increasing, and construction deaths make up a fifth of workplace fatalities in New York. Between 2006 and 2015 464 workers died on the job, falls caused 59 percent of deaths in New York City and 49 percent statewide. Between 2011 and 2015 fatalities increased from 33 workers to 55 workers in 2015, and the construction fatal injury rate increased by about 40 percent during that time as well. OSHA inspections of worksites where fatalities had occurred found that 87 percent of them had violated safety regulations in 2015, and 90 percent of worksites inspected in 2015 were found to be in violation. The report also indicates that employers who have a history of wage theft are also more likely to be safety violators. OSHA found that 79 percent of worksites that had a history of wage theft also violated safety regulations, compared to 69 percent of worksites that did not have a history of wage theft but were found to be in violation of safety regulations.
The city has recently enacted The Construction Safety Act, which aims to increase safety training programs and construction site safety around the city by expanding reporting and tracking of incidents and extending guardrail and netting requirements. The study authors also made some recommendations to improve the safety of construction sites, including requiring all New York City construction workers to go through OSHA's 10-hour construction safety training program, and not just workers assigned to projects 10 stories or higher or greater than 100,000 square feet. They also encouraged the passing of the Construction Insurance Transparency Act, the Elevator Safety Act and the Criminal Contractors Act. These would ensure that insurers covering worksites with scaffolding disclose information about premiums and financial solvency, that elevators at worksites be built and inspected by licensed workers, and that there be significant penalties levied against contractors whose negligence caused a worker's death, respectively. The authors also recommended that the city step up monitoring and enforcement of safety regulations, punishing employers who violate them or misclassify workers, a big problem in the construction industry. Latino workers are also particularly vulnerable to construction worksite injuries, willful violations occurred at 33 percent of worksites where Latino workers died versus five percent of worksites where non-Latino workers died. The study authors encourage enforcement agencies to increase education efforts aimed towards this group of workers and step up protections.
Read the report here.