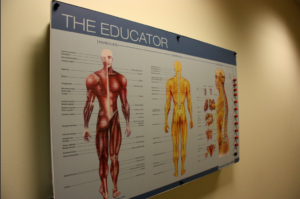 At the beginning of the year, Ohio's new limitations on work-injury related back surgeries went into effect. The opioid epidemic is a part of the reason behind the restrictions. This has hit Ohio particularly hard. By encouraging patients to look to alternative treatments like rest, physical therapy and chiropractic care, maybe they can reduce spinal fusion surgeries and the amount of painkiller prescriptions associated with them. There are about 600 such surgeries performed on injured workers in Ohio annually, and Ohio's Bureau of Workers' Compensation is the country's largest state-run fund.
Other states like Washington, Colorado and Minnesota have restrictions on payments for spinal fusion surgery but Ohio has placed an opioid warning into the surgical restriction as well. Except in select cases workers must undergo at least 60 days of alternative care like physical therapy before they consider spinal fusion surgery, and they should avoid opioids if possible during this period. Lower-back sprain claims are common in Ohio, and patients who were considering this surgery may find that an alternative treatment works well for them instead.
Some are not happy with this new rule. Daniel Resnick is a neurosurgeon and president of the North American Spine Society. He thinks that while this surgery may not be appropriate for everybody, those who could benefit from the surgery will waste time and money waiting under the new rule.
Others think it will reduce the frequency of a sometimes ineffective surgery. The surgery can also lead to opioid dependence in the aftermath; some patients utilize even more opioids after the surgery than they did before says Terrence Welsh, chief medical officer of Ohio's BWC. Chris Tomshack is the CEO and founder of chiropractic-clinic chain HealthSource and said that the ruling will reduce lost productivity and costs and improve healing for injured workers.
Read more from the Associated Press via Cleveland.com