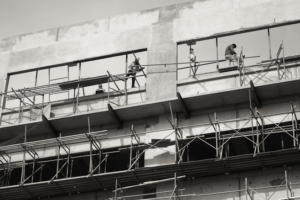 A report out from the Plain Dealer in Ohio shows that construction workers in the state are seven times more likely to die of opioid overdoses than workers in other professions.
The newspaper looked at records of over 12,000 opioid drug overdoses in Ohio between 2010 and 2016. They used a database from the Ohio Department of Health which included the occupations of over 16,000 victims- either at their time of death or the job they were working before they became addicted. They used categories from the Bureau of Labor Statistics to classify various occupations and see which were at the highest risk of overdose.
Although construction as an industry had the highest overdose rates, tree trimming was the single occupation with the highest overdose rates. Educators and library workers had the lowest rates. Construction and industries like fishing, logging and farming are all physical jobs where workers may suffer chronic, severe or catastrophic injuries that require the use of opioid medications. These drugs are dangerous themselves, and they are often the gateway to other drugs like heroin or fentanyl. The American Society of Addiction Medicine says that four out of five people who try heroin had started out by abusing prescription painkillers.
Construction workers also tend to file more workers' compensation claims than other industries, since 2010 workers were three times more likely to file a work comp claim according to the Ohio Bureau of Workers' Compensation (BWC). Construction workers were also more likely to receive prescription narcotics and opioids for their injuries. In 2012 the BWC stopped covering OxyContin as a first choice for workers who needed to treat pain, and began to limit prescribed doses of other opioids. BWC estimates that because of changing standards, the number of injured workers who were overprescribed opioids had dropped by half, to 4,100, by the end of 2016. Even with greater awareness of the problem, opioids are still very prevalent and addiction can be hard to stop once it's started. Opioid prescriptions are becoming harder to come by but people can get pills in other ways, or look to other street drugs like heroin.
Gary Franklin, the medical director for the Washington State Department of Labor & Industries, says that there are two strategies to take next in the battle against opioid addiction. He says that it's important to limit opioid prescriptions for people who have sudden injuries or dental procedures, since it only takes a short amount of time for people to become addicted and if they are prescribed high doses their likelihood of chronic use increases. He also wants to see alternative treatments or therapies for chronic injuries caused by general overuse or wear and tear. The BWC has started to implement these kinds of strategies, for example patients who are considering spinal fusion surgery must first go through 60 days of physical therapy, chiropractic care and the use of anti-inflammatory medications before they can become a candidate for surgery.
Read the full article here.