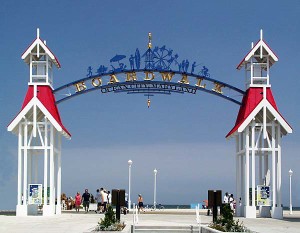 Within the Ocean City Maryland Police Department there have been significant rises in workers' compensation costs.  This is likely to cause financial issues for the resort.
As the spring budgeting session is approaching the rise of costs have been talked about with everyone from City Hall to the police union.
Ocean City government reserves about half a million dollars to cover the police workers' compensation claims during a fiscal year.  This is five and a half times more than it did back in 2001 – showing the trending rise in comp claims.
Workers' compensation claims definitely result from pursuit or apprehension of a criminal in a beach resort town especially during in-season, but for every claim like that comes plenty more claims from: job training, accidents, and chronic health issues.
For the fiscal year of 2014, OCPD filed 40 comp claims worth $396,417.41.  This included lost wages, medical costs, disability, and reserves for future costs.
A claim related to physical apprehension of a suspect was "injured shoulder during arrest" for $3,500.
Larger claims for comp came in during training  "brain injury while boxing at academy" for $18,500; "dog bite during K-9 training" for $20,125; "fell off horse" for $55,000.
For the current fiscal year Ocean City set aside $815,000 for workers' compensation claims – 60% or $492,591 is reserved for OCPD.
Even small resort towns deal with the dilemma of rising workers' compensation claims.  Sure they are people who live there year round but the busy times of the year are the spring and summer when people vacation.  Clearly these times of the year would cause a surge in comp claims.  There needs to be a way to reduce comp claims, whether is greater training or a better claims system that can help adjuster get these injured workers back to work and close claims faster.
For the complete story on this issue facing Ocean City visit OC Today.