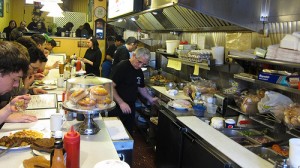 Schools in Minnesota are taking the initiative to promote a safe-shoe program for their kitchen and janitorial employees. This is a great thing for workers; it's a no-brainer preventative program that could spare the district's employees from needless injuries.
The "Shoes for Crews" program fits employees with non-slip shoes since trips and falls are such a major cause of workplace injuries. Many districts already encourage their custodial and culinary staff to wear non-slip shoes. Dishwater or cleaning solutions can make the floor slippery and employees may not even realize the danger they are in until they are on the floor with a broken leg. The Eastern Carver County District was one of those districts who launched a safety program that encouraged safer footwear.
"How I explain it is the shoes are just kind of a tool for you, because you wouldn't take a hot pan out of the oven without gloves," said Nutrition Assistant Spencer Fischer. "As the crew sort of recognized this was actually for their safety, they started to accept it a little more easily."
This seems like an easy fix and if there's a way to make working in a kitchen safer, why wouldn't employers enact a non-slip shoe policy? When I worked in a kitchen, we were running around like mad trying to move food and clear off counter space. No one was paying attention to the floor and luckily we had a shoe policy or there would have been a lot more spills. The kitchen is a high-speed environment with a lot of messy spills and hazards. People are moving fast and might not be paying a lot of attention.
"A fall can cause anything from a broken arm or shoulder to a head injury," said SFM Risk Consultant Gary Kaurala. "And even a slip that doesn't cause a fall can result in a very serious back strain. That makes a simple preventative measure like slip-resistant shoes well worth the small investment."
Seems like Minnesota schools are taking a step in the right direction. Get it? Get it? I crack myself up.