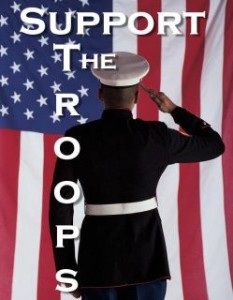 As we all know our troops experience hell in Afghanistan, Iraq, and Pakistan.  We pray everyday that our boys return safely, but that is not always the case.  Even the troops that return home in what would be seemingly good health and injury free may experience symptoms of PTSD as a result of their duty overseas.
Under the Federal Employees' Compensation Act (FECA), PTSD may be a basis for a workers' comp claim.  FECA is administered by the Office of Workers' Compensation Programs (OWCP).  Under FECA benefits can include payment of medical expenses and treatment and also wages lost.
If a employee should develop symptoms of mental health, including PTSD they can make a confidential appointment with a counselor at the Office of Medical Services.  If it is concluded that they are experiencing PTSD they will be referred to Deployment Stress Management Program (DSMP) to be evaluated more.
OWCP has advised the Department that any cases of PTSD be handled expeditiously.  Sometimes cases of PTSD need treatment beyond what the Department of State can offer and they will refer patients to specialist that can handle such cases.
Let us always remember that freedom is not free, our troops pay a hefty cost for defending our freedoms.  PTSD is real and effects many peoples lives not just those suffering from PTSD, it effects everyone around them.  If you know anyone who has been deployed and suffers from PTSD please advise them that they can get help and it can be confidential.  Our troops are warriors and view themselves that way and sometimes admitting to a weakness is tough, but there is treatment and lives can get better.  Let's us always remember to support the men and women who defend and have defended our freedoms.
Source: U.S. Department of State