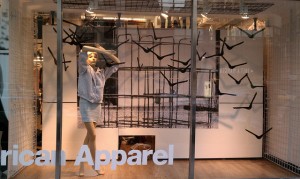 American Apparel, Inc. runs the largest garment factory in the United States. But too big to fail might not be the best motto for this fashion giant. The company, who was accused of failing to provide a safe work environment, has finally settled a suit after an employee died at their Garden Grove facility in 2011.
Tuan Phan was 49 and worked with the company's knitting machines, which were closed for maintenance at the time. Even though the machine was turned off, it was not locked out or disconnected from the power supply. When Phan entered the knitting machine it restarted and drew him in, mangling and killing him. It is required that machines be disconnected from power supplies so that they don't accidentally start and it is required they be locked so that only trained personnel can enter them.
Though the company denies that safety laws were violated, they settled anyway, possibly to avoid an even lengthier court battle. They paid over $1 million. $150,000 of that will go to surviving members of Phan's family, $283,000 will go to costs stemming from investigations from California's OSHA, and the rest will go towards civil penalties for application in future enforcement and investigations. The company will also have to submit to an annual audit of their facilities, implement safety training for their employees and is under strict scrutiny when it comes to compliance with safety laws.
The Orange County district attorney's office said that the company failed to train their employees properly in safety procedures and failed to provide and maintain a safe environment. The company says they have been and will remain committed to protecting their workers.