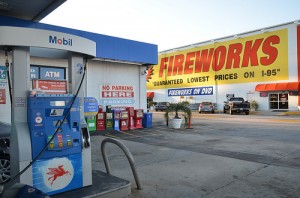 You'd think that when an arrest is made after someone has been killed, in a convenience store, during a robbery, by gunfire, that the man getting cuffed and stuffed would be the alleged killer right? Not in Flagler County, Florida. There, convenience store owner Mohammed Ansari is being questioned in relation to a third-degree felony charge of workers' compensation fraud.
The incident happened on the night of February 21st, when a still at-large assassin shot at and killed 32-year old Zuheily Roman Rosado as she worked behind the counter at a Mobil gas station. She was a mother of 6, but her family was denied $7,500 dollars in funeral expenses, along with additional benefits up to $150K since Ansari's workers compensation policy was cancelled January 7th this year, as reported by an investigator with the Division of Workers Fraud.
His workers' compensation policy had allegedly lapsed, Ansari claimed, because his check to pay for it was lost in the mail. I'd be more likely to believe him if this was the first time his policy had been cancelled, but it was also suspended in October of last year. Come on, man! Trust me, it's a whole lot easier – and cheaper – to pick up the phone and double-check with the provider to make sure everything's worked out than to roll the dice and pray it doesn't land on snake eyes.  The case is still open within the Florida courts, Ansari has been released since making bond and is awaiting a pending trial.
Source: WFTV