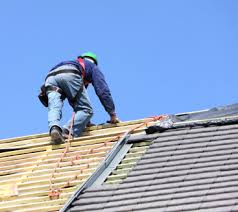 OSHA has cited roofing contractor Marcus Borden for six safety violations after three workers were hospitalized for injuries that they suffered while performing roofing work in a severe thunderstorm in Cordova, AL.
In March during a severe thunderstorm a strong gust of wind came through a ripped a large piece of metal from a workers hands.  On worker was thrown against against a piece of metal from the new roof which cause his left arm to be amputated, a second worker was blown across the roof and suffered a shoulder injury, the third worker became wrapped in a large piece of sheet metal, by the time he freed himself he had so much momentum that it carried him over the edge causing him to fall 30 feet to the ground.  He suffered broken wrists, ribs, tail bone, and pelvis as a result of the fall.
Borden was cited with a willful violation for allowing employees to work without fall protection while within 6 feet of a 30 foot drop.  Four serious violations were issued for allowing his workers to be exposed to severe weather conditions, not securing metal sheets during severe weather conditions, and not using fall protection while riding an aerial lift.
Borden also failed to inform OSHA that workers had been admitted to the hospital which resulted in a other than serious violation.  Proposed fines are $69,200.
This is just a crazy story I have never heard of people doing roofing work in severe weather yet alone working with a metal roof in severe weather.  Workers got seriously injured and this employer should learn a real lesson.
Source:  WorkersCompensation.com