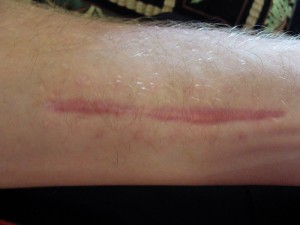 A truck driver was accidentally sprayed with sulfuric acid leaving a scar on the mans neck.  On Tuesday the Arizona appeals court ruled that he qualifies and will receive workers compensation facial disfiguration benefits.
Zurich American Insurance Co, argued that the judge originally wrongly awarded James Freeman compensation because the scar was on his neck not his face.
Arizona's Division 1 Court of Appeals found that Freeman's scar was indeed compensable because the scar on the neck falls "about the head or face."  Thus making the neck about (near) the head.
"Because the neck is around, near, and in the vicinity of a person's head or face, a permanent disfigurement of the neck is compensable," the appeals court ruled.
Again another case where I can see both points of view.  On the side of the claimant he has a permanent scar, now I have not seen this scar; is it large, small, barely noticeable? I mean he could be in luck, lots of women seem to dig scars. It could also make him self conscious depending on the person
On the side of the insurer, it is his neck not his face.  Does not prevent him from doing his job, and ultimately with the creams and things available could go away over time.
No one goes to work planning on getting hurt, it happens and this is why we have comp.  Some of the laws and descriptions are vague and leave open a door to all kinds of claims that are suspect on both sides as to whether you pay comp or do not pay.
Source: Business Insurance