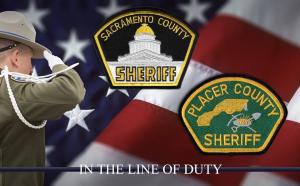 Over the weekend two officers were killed in the line of duty and another injured.  One officer from Sacramento County and one from Placer county were fatally wounded by Marcelo Marquez of Salt Lake City, Utah.
Governor Edmund G. Brown released the following statement: "The brutal murders of Sheriff's Deputy Danny Oliver and Sheriff's Detective Michael Davis are a tragic reminder of the sacrifices we demand of our peace officers and the incredible courage they display as they protect our communities. Anne and I extend our deepest sympathies to the families, friends and colleagues of these two brave public servants. We also are mindful of the officer and bystanders who were wounded or terrorized by today's terrible events."
Deputy Danny Oliver from Sacramento County, 47, a 15-year veteran with a wife and two daughters was killed. The other slain officer was Placer County Deputy Michael David Davis Jr., 42, an 18-year veteran with a wife and four children. Davis died exactly 26 years later to the day that his father, a Riverside County sheriff's deputy, was killed in the line of duty.
Marquez and a female accomplish were taken into custody about six hours after the melee began.  Once finished cars were carjacked, officers shot and killed, others injured, and countless lives turned upside down.
My heart goes out to the families and friends and departments of all those affected by this senseless tragedy.  These officers are attempting to keep us safe and do their jobs and now there are families without husbands and fathers.  Justice will be served and served hard in this case.