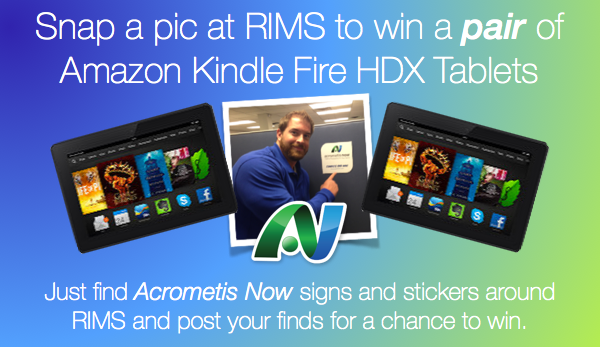 Snap your picture with the Acrometis Now signs in the following exhibitors' booths:
Acrometis Now stickers will be going up everywhere! Find out where here.
See all the pics that have been posted! Check here for the latest sightings. 
Check here at WCInsights or @WCInsights twitter feed for posts of locations of the stickers around town, starting Saturday night. Find them and snap a selfie to enter to win.
Not going? Pass this on to someone who is and say "You better bring me back a Kindle."
Enter via Twitter
Tweet your photo to @WCInsights with the hashtag #RIMS2014.
Enter via Email
Email your photo to rims@wcinsights.com, and we will tweet it for you.