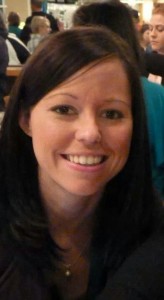 Our "Star Adjuster" series is going strong, just like the adjusters we meet. We love receiving submissions from managers and co-workers who recognize the hard work and dedication of their adjusters. Keep the nominations coming by submitting a form on our Y.O.T.A section of WCInsights. Make sure to grab a complimentary copy of our infographic to feature in your office or share with your friends as well, and while you're there submit your tips for other adjusters!
Our next nominee comes to us from Sentry Insurance. Rachel Lee is a crucial member of her company as a Senior Workers' Compensation Claims Representative. She was recognized by her nominator for her superb knowledge of her jurisdictions and their rules as well as her sense of urgency when it comes to handling claims. She knows that workers need to be assured they are taken care of!
WCInsights- Your nominator mentioned your outstanding jurisdictional knowledge. Could you expand on that?
RL– (My nominator) and I work very closely together on claims; she oversees Workers' Compensation claims for her entire company across the nation, so she has a lot of different jurisdictions to juggle.  I handle claims for injured workers who are in Pennsylvania and Illinois. The rules in each state are very different, and she really looks to me to give her advice and recommendations for how we approach each situation in each state.  She really knows her stuff when it comes to work comp in general, so we find the answers together when we are not sure what to do.  I aim to have a sense of urgency with all matters that I handle on a daily basis, and I know that it is especially important to her because she takes her job very seriously.  I appreciate that about her!
WCInsights- What is the most rewarding part of being an adjuster?
RL- I love the variety of this job.  I get to collaborate with so many different people:  lawyers, doctors, nurses, safety managers, and the list goes on.  In addition to that, I get to talk to injured workers from all walks of life.  I am always learning and I know that no day will ever be the same.
WCInsights- What is something that makes your job easier?
RL– My job is made easier by having managers and co-workers that are great team players.  We have open lines of communication and support each other through our good and bad days.
WCInsights- What is something you personally do that you think makes the job better for you?
RL– I find the positive in everything I do.  Sometimes, handling claims can seem a bit dreary and I think adjusters don't always feel like they are helping someone when they do their job.  I try and find a bright spot in every day.  We all have bad days and I do my best not to let it get to me.
WCInsights- How do you stay on top of claims? If you had more time in your workday, what kinds of things would you be able to do?
RL– I think it is the nature of our business to never be totally "caught up," but I do my best to be as efficient as possible!  It's important to stay organized and to return phone calls/emails promptly.  That helps to cut down on repeat phone calls that make extra work for you.
WCInsights– If you had more time in your workday, what kinds of things would you do?
RL– My favorite part of my job is training and mentoring other adjusters.  I try to find ways to squeeze that into my work day no matter how busy I am.  If I had more time in my workday, I would definitely spend extra time helping to develop the skills of less-tenured adjusters.
WCInsights- Could you share a story of getting an injured worker back to work that had an impact on you?
RL– As an adjuster, it feels like most of our time is dominated by "problem" claims, so it is always nice to have a claim where it feels like everybody was happy with the outcome.  I remember dealing with an injured worker who had a severe crush injury to his dominant hand.  He had several surgeries and had a long recovery in front of him.  He was very anxious to get back to his job, and I was able to work with the insured and the treating doctor to get him back to work on one-handed duty 6 weeks after his injury.  He was very happy to be back and was able to do much of his supervisor role without the use of his dominant hand!  He eventually regained full use of his hand and continues to do his full duty job for our insured to this day.
WCInsights- What's one tip that you could offer to other adjusters?
RL– To quote Dori on "Finding Nemo," just keep swimming!  Claims can be overwhelming at times, but it's important to keep moving forward and be flexible to the various "speed-bumps" that we encounter while trying to get through our work.
Thanks Rachel, keep up the good work!