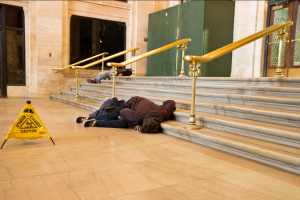 Did you make any New Year's Resolutions for 2015? If you're getting to the gym more or eating better, why don't we look at workplace safety as a goal as well? The latest Liberty Mutual Workplace Safety Index found that the top ten most disabling injuries cost businesses $60 billion in 2012. These ten alone accounted for 83.8 percent of the costs of work injuries in 2012. By setting some safety resolutions this year maybe we can save workers from injury and save businesses some money.
Number one on the list? Overexertion. All too often employees are pulling or pushing more than they should, or lifting the wrong way that they injure themselves. This one alone cost businesses $15.1 billion, a little over a quarter of the total amount of direct costs associated with work injuries! Ask workers to work in groups for a particularly heavy load, and make sure everyone is well trained in proper lifting techniques.
Falls on the same level came in at number two. Think things like slipping on a wet floor or a banana peel carelessly left in the kitchen. This costs businesses $9.19 billion that year. This is another one that seems relatively preventable. If you need to clean floors do it at night when everyone has left, and make sure spills are reported and dealt with before they can cause an injury.
Struck by won the bronze for the most disabling injuries and this one can be a little difficult to control. Ensure that your employees are wearing proper protective gear like hard hats, goggles, and protective boots. If they are wrestling with a box or something out of a shelf that could potentially fall on them, find a new and safe solution for them to remove stacked objects.
Falls to lower level was fourth on the list followed by other exertions like kneeling, bending, reaching, etc. The second half of the list included motor vehicle accidents, slip or trip without a fall, caught in equipment, repetitive motions and last but not least struck against object.
To my eyes, it seems like the top injuries can be prevented in a lot of situations. It might take a little more training and enforcement, as well as buy-in from employees. Staying safe at work also translates to a more productive workforce, a happier workforce, and lower premiums and less paid out in lost time. In addition to your other betterments, make safety one of your goals this year.