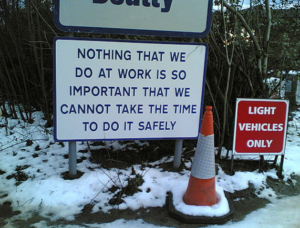 At least a few states have reported an upswing in the number of work related fatalities, a statistic that you never want to see increase.
Missouri has reported 24 workplace deaths since last October, and Tennessee who has had 22 workers killed on the job since January, reported 10 of those deaths in just July. Officials from the Occupational Safety and Health Administration (OSHA) say that in most of those cases, the worker's deaths were preventable. In Tennessee many were construction workers who fell to their deaths. OSHA says that falls are amongst the leading cause of death for construction workers.
In both states, officials note the improvement in the economy and new employees who are coming to jobs in that area. New employees may not be as seasoned as workers who have been working in their field for a while, and they may be even more susceptible to injury. That is why it is so important that new workers receive training in safety and on the hazards of their jobs before they are put to work. It could mean the difference between life and death.
The Tennessee OSHA area director Steve Hawkins says that if the trend continues the state will witness a 36 percent increase in fatal workplace accidents compared to 2014. To prevent more fatalities and keep workers safe they recommend organizing a safety meeting with employees and employers to come together and identify hazards and work and what can be done to fix those hazards. Tennessee OSHA directors also say it is important to make sure that workers who are new or temporary, or those who may not speak English fluently, receive adequate safety training so they are not left behind when it comes to understanding safety at their workplace.