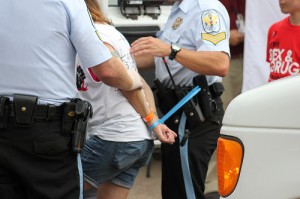 When Arnoldo Flores got a job working construction for Stolk Construction he thought he would be making money, now he finds himself in jail.  On November 15th Flores fell off a 12 foot ladder causing a fracture to his arm and wrist.  When he filled out the paperwork to be treated it asked for his social security number, he gave a number but not his own.  Why you may ask well because Flores is a citizen of Honduras not the USA.
The insurance company became suspicious when the social that he used belonged to a man in New Mexico who was born in 1983 making him 29-30 years old.  Flores however is only 20, the math just simply did not add up.
On Monday the investigation was finally completed and an arrest warrant issued for Flores.  He is charged with using false identification for a workers' compensation claim.
Bottom line is do not steal someone's else's identity.  If you are dumb enough to do this anyway I guess make sure they are in your age group and fit your demographics.  I am sure he will face a hefty fine along with all those medical bills he will now owe.
Source: Sun Sentinel