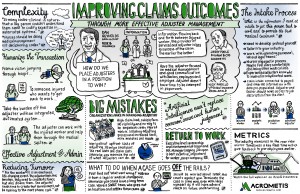 Controlling workers' comp costs. Some look at this as a nearly impossible task, and it can certainly be hard to manage all of the expenses associated with a work injury. One practice that can benefit everybody is early action when an injury happens. Things like quick reporting, proactive claims management rather than reactive management and a teamwork mentality can all help the case to get settled and help the injured worker get back to work.
When an injury occurs it should be reported right away, not several days later. It is easier to figure out who was there and exactly what happened while the incident is still fresh. It also delays the healing process for the worker if their claim is not even reported for a few days. An early report helps jumpstart the claims handling process and lets the adjuster take hands-on steps to manage the claim right from the beginning.
An injured worker might be better off talking to a nurse initially, because they might feel comfortable discussing medical history and their injury with a medical professional rather than an insurance claims handler. It also allows the nurse to identify what kind of treatment is needed, perhaps better than an adjuster would, and they can recommend that treatment right away. This practice could prevent a latent side effect from popping up later on, since the nurse will have already caught it. They also might help identify existing conditions that have an effect on the treatment or handling of this worker's case.
Organizations should be encouraged to take on a "teamwork" mentality so that the injured worker does not feel alone- right from the beginning. It is important that their managers and co-workers support their return to work and the worker knows they have a job waiting for them at the end of their healing period. This can be a great boost to the injured worker and they have greater incentive to get back to work if they are being supported by their employer.
Employers would do well to enforce safety procedures and train their employees in safe practices to try and prevent injuries in the first place. We have sophisticated workplaces with machines that we think have the proper safety mechanisms in place but sometimes they don't function as they should. Accidents do happen and employers should make sure their employees are vigilant and alert at all times even if they are working in a generally safe environment.
Just like you often hear about the "Golden Hour" to save someone after a health problem like a heart attack or stroke, there is a "Golden Hour" in claims reporting too. The longer an injured worker waits around without any help or contact from the adjuster or the employer, the more likely the case will go south.