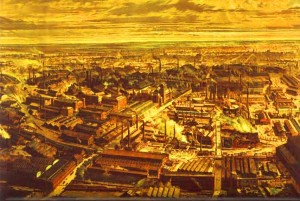 We all work in this industry we call workers' compensation, I wanted to do a series that looked at different parts of comp and what is new and how we have gotten to where we are.  Missouri is in the process of enacting a new law the will absolve the Second Injury Fund and will make workers' compensation solely responsible for workers with occupational diseases such as asbestos and mesothelioma.  This is a far cry from how it used to be done and what workers went through.  For the most part this are all old disease, we have made them obsolete except to our older generations.
The industrial revolution of the 19th century brought about a significant increase in workforce jobs and with that came many workplace accidents.  During this time the only way for a worker to get compensation if injured was to sue his or her employer.  This was a time consuming and costly process.
Enter in Wisconsin who enacted the first official and permanent comp law in 1911.  By 1949 all states had a workers comp system that provided benefits should an employee be injured at work.  With the evolution of workers comp laws and systems, the employee gave up the right right to sue an employer for negligence for any injuries received.
Comp has continued to grow and evolve throughout the years.  States change laws to meet the needs of each jurisdiction.  Some states have better benefits than others.  There is coverage provided by the federal government.
The only state where comp coverage is truly optional is Texas, there about 1/3 of the employers are non-subscribers.  In the event of a truly serious accident at those employers who have opted out they can be sued by the employee for failure to maintain a safe work environment.
Even with the ability to opt out or self-insure roughly 9 out of every 10 employees in the nations workforce are protected by workers comp insurance.  There are about 15 states that do not require employers to provide coverage to migrant and seasonal farm workers.
We have come a long way in the way we handle workers' compensation.  There are many more factors and cost drivers that affect the system today.  There are also many more ways to defraud the system.  I hope you enjoyed this brief history lesson, in the next part of the series I will take a look at how the comp system actually works.
Sources: St. Louis Public Radio, NCCI, Lexis Nexis