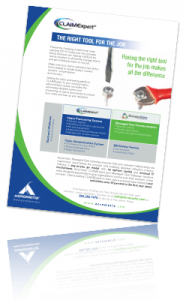 While repairing some damage my teenager caused in the basement, I was painfully reminded of the importance of having the right tool for the job. I tried everything to avoid going back to the workbench for the right tool as I scraped my knuckles repeatedly with the wrong screwdriver.
The same is true for your claims operations. Claims are complicated animals, requiring claim handler expertise supported by the proper systems to get the claims handled efficiently. Adding CLAIMExpert's claim processing platform to your existing claims operations will cut your medical loss and free up your adjusters to focus on closing claims and getting employees back to work.
Read all about how you too can add the right tool for your job and we can all stop scraping our knuckles!